Overview
Hardware and Networking courses at Newton Computer Institute
Computer hardware and networking is a field that teaches students how to cope with the many difficulties that arise in a computer network and device via the use of software, hardware, and communication.Hardware and networking training at Newton Computer Institute helps trainees to understand basic hardware and networking component which gives them a firsthand idea about hardware and networking failure. Techniques of remedies also remain an advanced part of the training. Overall, Newton Computer Institute offers practical knowledge on Hardware and network under the supervision of hardware and networking experts.Newton Computer Institute, We are  conducting  our Hardware and networking training sessions in a very technological environment with sufficient training resources. Therefore, save your seats at the earliest to reserve your seats.Among the extreme necessity and demand of computer and laptop in the market, IT Security College of Computer Studies is focused on providing the best skills and knowledge of Hardware and Networking. We train the students with the latest modes of teaching with all time lab activities in reference to latest technologies and newly arisen problems in hardware, networking and software.

Some highlights of  courses for candidates in their session.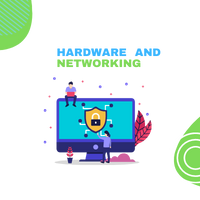 advance maintenance and troubleshooting of computer and laptop

proper use and tackling of software on the basis of hardware compatibility

Identification and removal of computer viruses and other malfunction.

use of switch

use of hubs

use of gateways

handling of access points

handling of network interface cards

use of networking cable
Benefits of Hardware & Networking courses:
Hardware and Networking course prepares the students to perfectly handle the tact and skills to install, upgrade, repair, configure, troubleshoot, optimize and perform preventive maintenance of personal hardware and operating system.
Opportunity to become qualified hardware and networking technician and trainer.

Demand for Hardware and networking experts are very high.

Practical skills are prioritized over theoretical knowledge.

Ability to draw a line between the internet and intranet.

Creative enhancement of hardware and networking skills

Excessive career opportunities in IT job market

Learners can start up their own business